CALGARY JOURNAL • JANUARY 2020
SOLAYA HUANG CHLOË
CHAPDELAINE
BAD TATTOOS DON'T HAVE TO BE PERMANENT
Whether you have a tattoo of an ex, a bad stick-and-poke or just want to refresh some old ink, cover-ups have become a popular solution in today's tattoo industry.
Brenden Hansen is getting tattoos covered-up that he got when he was 18-years-old. Although he didn't like his old tattoos, he didn't want to get them removed completely. Instead, he's turning them into something brand new.
"I still love the concept of tattoos," says Hansen. "I knew that if I went with a really good artist that I could do something quite beautiful and still kind of get what I originally wanted out of it."
One of the reasons why cover-ups are gaining popularity is the accessibility of tattooing. Cong Lam, Hansen's tattoo artist at Enso Tattoo, says they get clients wanting cover-ups every week. Coverups don't necessarily need to cost a lot more than the price of a regular tattoo.
"You can just buy a tattoo machine online, no problem, and just start tattooing. So we do see a lot of stick-and-pokes people do at parties and things like that," says Lam.
Though spur of the moment tattoos don't always end in disaster, both Hansen and Lam stress the importance of doing your research to find the artist that you want before you get your tattoo.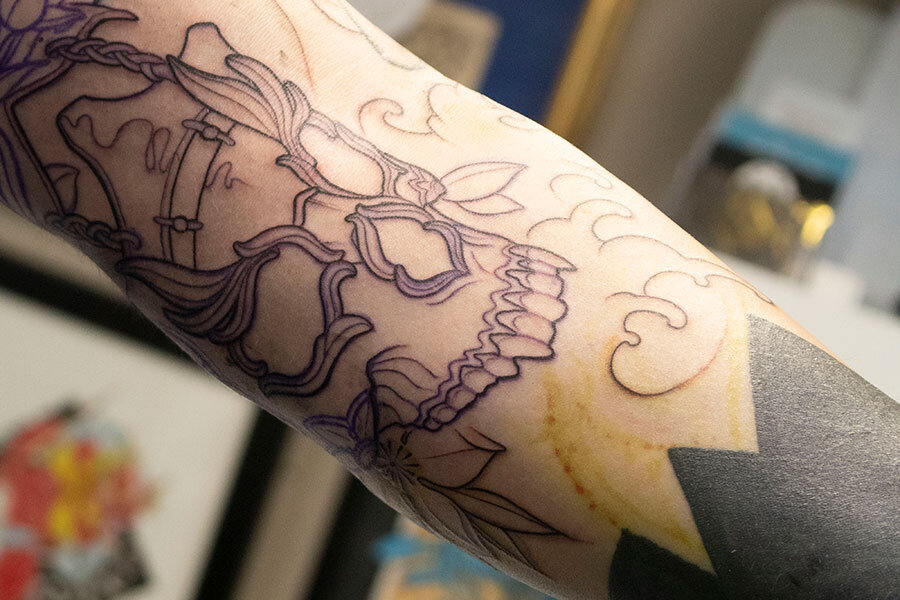 Hansen's cover-up is going to take multiple sessions, this one being the first. When he heard of Lam and saw his work, he knew he wanted him as his artist. Photo by Solaya Huang.
"Make sure you truly actually want their art," says Lam. "You vibe with the person because it's one thing to get tattooed, but you're going to get to hang out with this person… you're going to build a bond."
The same goes to getting a cover-up: Don't rush the process, and find the artist that's best for you.
"Find somebody who's willing to take the time to get creative with you and put like the extra time and to deliver what you want," says Hansen. "Take your time, get somebody good and then get a good tattoo."
SOLAYA HUANG AND CHLOË CHAPDELAINE
shuang@cjournal.ca, cchapdelaine@cjournal.ca